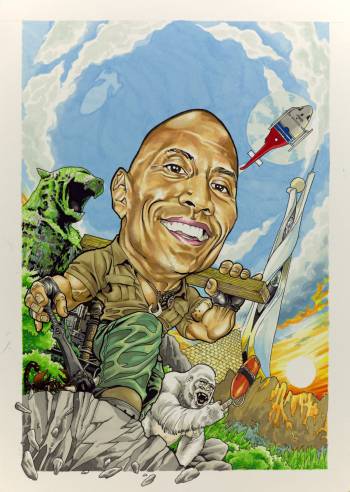 Dwayne "The Rock" Johnson is an American actor, producer, and professional wrestler. He is widely considered to be one of the all-time greats in the entertainment industry, with a string of box office hits and critical successes under his belt. He got his start in the wrestling world, but has since transitioned into acting, starring in films such as "Rampage", "Jumanji", "Hercules", "San Andreas", and "Skyscraper" all referenced in the drawing. He is also set to star in the upcoming "Black Adam" film.

Johnson is known for his intense charisma and his ability to connect with audiences. He has a large and loyal following of fans who appreciate his work. He is also known for his philanthropic work, often using his platform to raise awareness for important causes.

Johnson is a true Hollywood success story. He has worked hard to build an impressive career and has become one of the most bankable stars in the business. He has shown that he has the talent and the drive to succeed. With a long list of impressive credits to his name, Dwayne "The Rock" Johnson is a true Hollywood legend.
Size:
A3, Portrait, 297 x 420mm.
Original:
The original of 'Dwayne "The Rock" Johnson' is for sale at £200.00, please
contact me
if you'd like to buy it.
Prints:
This caricature is available on A3 sized, 230gsm paper at £30.00